Internet Marketing Services
Welcome to Joanna's services page. Here, we will list all the different services and offers that are currently available for your company.
Take a look and pick the right one for you.
---
Word of Caution #1: In the event where you don't see any suitable offer for what your company or organization needs right now from Joanna's currently offered services, you may submit a custom detailed request for your digital marketing needs on jo@joannavaiou.com, letting us know about your exact goals of your business. We will initiate a Custom Offer for your exact needs.
---
Word of Caution #2: If your company is in Athens, Greece and you want to consult with Joanna at your premises, you are advised to choose the "1 Hour SEO Marketing Consulting with Joanna Vaiou" service shared below and preferentially email Joanna about a convenient time and date to set up your business appointment.
Prices shared below, do not include any applicable VAT costs.
---
Joanna Vaiou currently offers the following IM services:
---
Local SEO – Google Maps – Google My Business SEO – 300€/month
If you operate a brick and mortar business with a physical location in you area, you simply can't afford not appearing in front of your customers' eyes when they search Google Maps directory of local businesses in your specific area to find Your Products and Your Services.
---
>> SEO Case Study for Website and Google My Business SEO Services <<
---
This service costs 300€/month recurring and it includes the following sub services:
Creation of a Fully Optimized "Google My Business" (or Google Maps) local business page for your products and services in your specific area
Monthly SEO service for your "Google My Business" which we created above in order for your page to be able to rank on the top spots above your local competitors who also have a Google Maps page.
---
Fully Optimized Google Maps Page + Google Maps Page SEO Recurring Cost > 300€/month
Local SEO Results for a Client of ours
Last 90 Days: Through our client's Google Maps Page, he was found by 8712 customers online either by typing directly his brand name or his local business address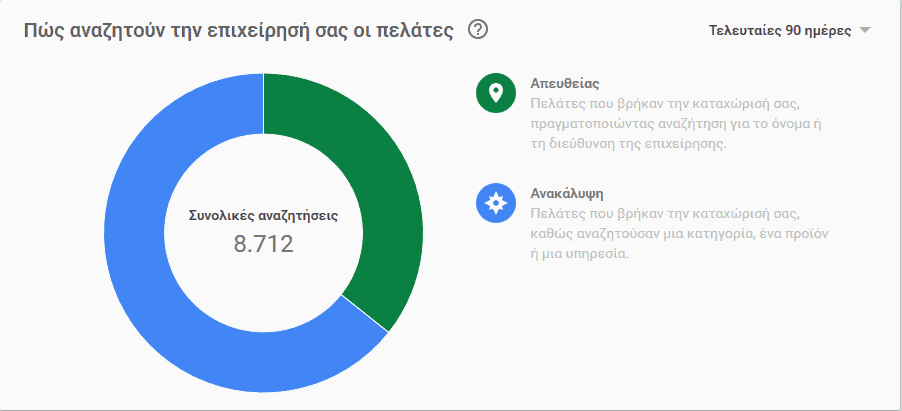 ---
Last 90 Days: Our Client appears on top spot on Google Maps for his main keyword and in the 3-Pack Organic Google.gr SEO results for his main keywords ranking #1. Through Google Maps listing he was found 1770 times and 8630 times through the organic local business listing.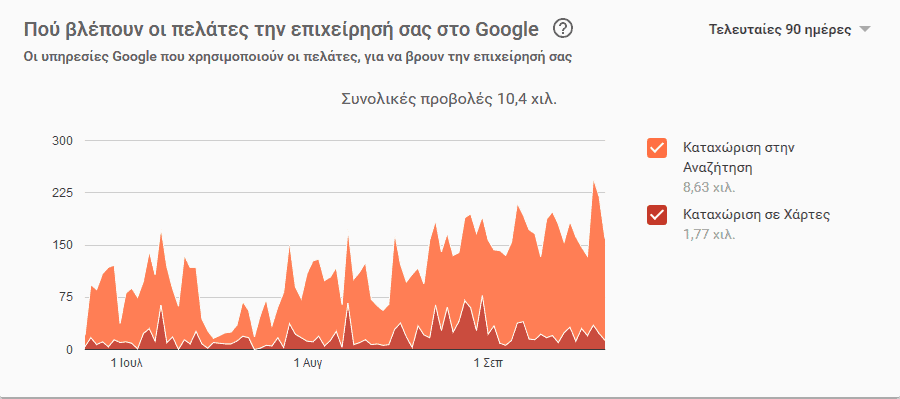 This service has nothing to do with doing SEO on your website. Google My Business or Google Maps SEO has to do with creating, optimizing and promoting your Google Maps Local Business directory listing so you have an additional way (on top of your website) to appear on top spots on top page of Google organic results. This way you can gain that extra targeted traffic and visibility by all those customers who are specifically looking to buy your products or services in your area. You can do this even if you don't have a website.
---
Corporate SEO Training Program – Private SEO Mentoring (One on One) – 1000€
Private SEO Training – Customized Seminar – Program for Business Executives
This service is 2-phased. It includes the following:
OnSite and OffSite SEO CUSTOM Strategy Design by Joanna Vaiou from Scratch, for your Company's website specifically (1 traget page – URL – one target keyphrase)
2 x 4 Hours at your company's premises including:  a) Private 101 (One on One) SEO Presentation and b) "How to Do all the above Yourself" Training & Mentoring to your company's most appropriate executive to handle your SEO In-house. Learn more about SEO Seminars in Athens, Greece here.
Private & Customized SEO Training & Mentoring (1o1) Program > 1000€ (One-Off)
---
Full Corporate SEO Monthly Support: 1500€+ / Month
Complete Corporate SEO Project Management & Support Service
This service is offered by Joanna Vaiou to companies who want outsource their SEO management  to a professional SEO service provider.
---
Full SEO Management Service Notes
This service is ongoing (payment is based on a monthly retainer) and includes all the seo marketing strategies and methods that will be applied by Joanna Vaiou for your company's website.
This service's pricing covers 3 different keyword categories (3 different products or 3 different services) of medium/large competition on Google organic results.
The cost for this service is the minimum and covers the above goals. Depending on your company's extra goals, for which your company aims to achieve and preserve premium SEO listings, the cost increases.
---
1 Hour SEO Marketing Consulting with Joanna Vaiou: a) On Skype: 80€ – At Client's Premises: 100€
This service is offered to serious companies that need an expert's opinion in order to get a clear idea about how this marketing method can work for for you as well.
If you want to know how SEO works and what are the best guidelines and actions that your company should focus on to improve the following:
your brand's online status
your visibility on Google search engine
, email Joanna on jo@joannavaiou.com and propose a suitable time and date for 1 Hour Consulting with her personally, either on Skype, or at your company's premises if your offices are in Athens, Greece.
1 hour SEO Consulting with Joanna Vaiou On Skype > 80€
1 hour SEO Consulting with Joanna Vaiou at Client's Premises > 100€


---

OnPage SEO Consulting > 30€ / each Page on a website
OnSite SEO or OnPage Search Engine Optimization Service
This service includes the design from scratch of the SEO strategy that must be applied individually on each and every page page on a website.
So, if a website has 50 pages total, each page must have custom, unique and distinct data when it comes to the following elements:
Main Target Keyword Phrase
Secondary Target Keyword Phrases (LSI and Long Tail)
Page Meta Data including the following 5
SEO Title
SEO Description
SEO Keywords
SEO URL
Heading Tags
User and seo friendly content (here we provide guidelines to the business's content writers so the content on a website is friendly for both users and search engines)
Strategic Internal Links from one page on the website to another
High Authority Outbound Links
We also offer a series of technical guidelines (audit) for your company's web developer/admin to apply so the website becomes "healthy" in the eyes of Google.
This service is delivered from us to your website administration to be applied, in the form of an excel sheet with guidelines for each different page on the website and with the same number of columns as the elements we have presented above that should be well researched and unique.
The cost of this service depends on the total number of individual pages/posts a website has.
---
30€ / Page (One Off) for the OnPage SEO Strategy Design
50€ / Page (One Off) for the OnPage SEO Strategy Design + Implementation of the guidelines from us on your company's website if you have a WORDPRESS website and you want us to apply it.
---
All-in-One Automated Monthly SEO-SM Reporting: 50€ / Month
Automate your Monthly SEO – SM Reporting for your company.
Let us gather the more important data each and every month from a variety of different expensive and multi-featured analytic tools, all-in-one beautiful (and easy to absorb) PDF SEO report.
Are you frustrated every month when you need a clear overall idea of how your seo, social media marketing efforts progressed in terms of the different traffic sources, advertsing or seo revenue, ads, link building, keyword rankings etc?
We know we do.
---
No individual seo tool gathers  all the data a company needs.
---
SEO and Statistical Data Tools like:
Google Webmaster Tools
Google Analytics
Keyword Rank Trackers for your Keywords on Google
link, content & keyword analysis tools like AHREFS, MAJESTIC, SEMRUSH, SPYFU, MOZ
… are crucial for a SEO manager to have but too expensive all together (all except the free Google tools) and time consuming to combine what you get from them in order to make strategic decisions.
We have developed a smooth reporting system which allows us to gather all the data your company's internet marketing manager needs at the end of each month, in order to monitor and present the progress of all promotion efforts.
Let us do the hard work, so you don't have to.
Focus on improving your actual business and we will dive in the numbers.
Automate your Monthly Marketing Data Reporting – Outsource it to us.
---
Cost of Monthly Reporting Service > 50 Euro / month
---