How to Check if your SEO Scammed You
---
What's New
Hi there, this is Joanna writing, it's been only few days since my summer vacation ended and I must say it was a blast.
Since I got back, I have been organizing some information, data and making some analysis on past and current SEO projects and their results as:
A way to inform (educate) business owners on how SEO Works in general so they know what to expect
An example or proof of work for potemtial new SEO clients that acquire my professional SEO services and support
See what I have prepared so far in my new monitoring SEO performance and case studies page.
---
SEO SCAM Awareness & Alert Guide
"Can You Help me Escape my Current SEO Contract with my Current SEO Agency?"
Yes, you read correctly. One of the requests I have gotten was exactly the above.
The company owner approached me in order to analyze their website's organic growth and progress in order to have proof in their hands that no actual work has been done the last year.
---
They were almost sure they wanted out but did not know how to justify their desire to leave. They needed actual data & numbers.
---
Here, I will share my mindest and the roadmap that I used to perform my analysis. This allowed me to offer a clear proof of work that has or hasn't been done on their website, as outlined by the paid contract they had signed with the current SEO agency.
Feel free to follow the exact steps, in the unfortunate event that you find yourself in a similar situation wanting out but not knowing how to justify your desire.
---
For the scope of this analysis, I will make the following assumptions that you (as a business owner) have the following data in your hands as a comparison baseline:
Your SEO Goals (Or KPIs): You should have a baseline of SEO goals (or KPIs – Key Performance Indicators: the metrics you want to track your progress on). For example, you must have set specific keyword goals with your SEO agency that you have agreed to rank higher in Google and track their progress regularly (usually monthly). In order to track progress, you must have your goals clear, their "before" and "after" (your specified period of time) SEO status. You achieve that with SEO Tools. If you don't know your goals you can't track any progress.
Access to a paid or Free trial of Semrush.com and AHREFs.com SEO Analysis tools
---
STEP #1: Checking Current Organic Status of the Website with SEMRUSH Tool
I went into SEMRUSH.com tool and typed the domain name in the search box to see the organic overview SEO data at the current moment for the last 12 months more or less. I got this: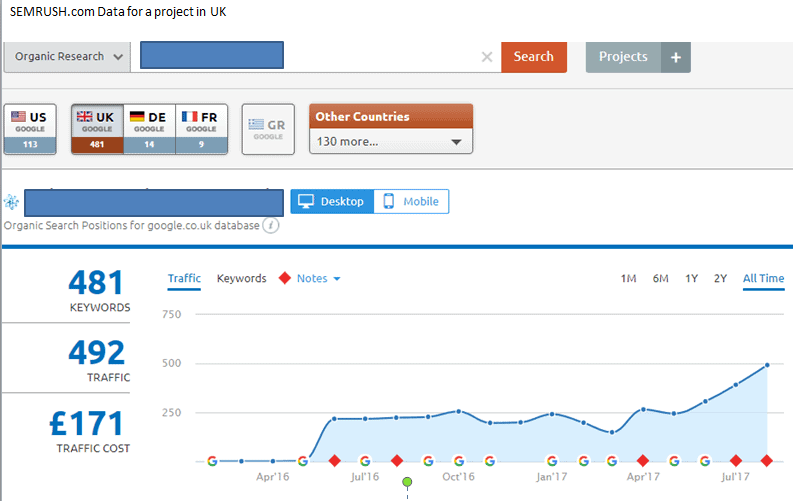 ---
Conclusions:
Uk site ranks with 481 keywords in Google.uk index and its estimate traffic last month is 492
Organic Traffic increased from 3 – 492, between May 2016 – July 2017 (16 months)
---
Seemingly, there is some apparent increase when it comes to organic traffic the last 16 months. But what kind of traffic is this?
---
STEP #2: Checking Current Organic Status of the Website with SEMRUSH Tool
I asked myself, where does this Traffic Increase come from, is it from the SEO that was done on the site for which the company owner paid for? What Keywords brought this traffic increase? Are these keywords of value for the company owner?
I analyzed this organic traffic in order to see what seo progress has been made on the site overall by sorting the organic keywords data out by 3 different factors:
The Traffic % these organic keywords brought to UK site
Their Search Volume in Google uk
The current Ranking Positions now, in Google uk
---
Sorting by Organic Traffic % Bringers (Highest Volume to Lowest Volume)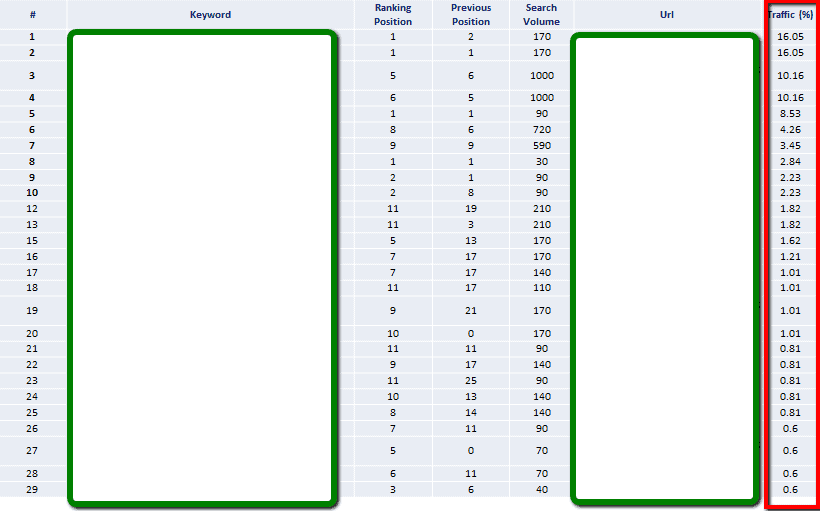 ---
Conclusion:
29 Keywords were the ones that brought UK site ~ 99,94%+ of its Total Organic Traffic. I have  sorted them from Highest  (%) to Lowest (%) of "traffic bringers".  The conclusion was that 5 out of 10 highest traffic bringers were keywords UNRELATED to SEO efforts (4 Keywords included variations of branded searches and one keyword was not what the business owner was interested in as a seo goal).
---
Sorting by Average Monthly "Search Volume" of the keywords that the website ranks in Google UK
Here, I have sorted all these keywords (for which the UK site ranks in Google UK for and has received at least some Traffic from Google Organic) by "Search Volume".  This way, I could see what progress has been made for the decent volume SEO related keywords that are reasonable (Volume Wise) to have as SEO targets and compare them with the seo targets that the company owner agreed and paid SEO for.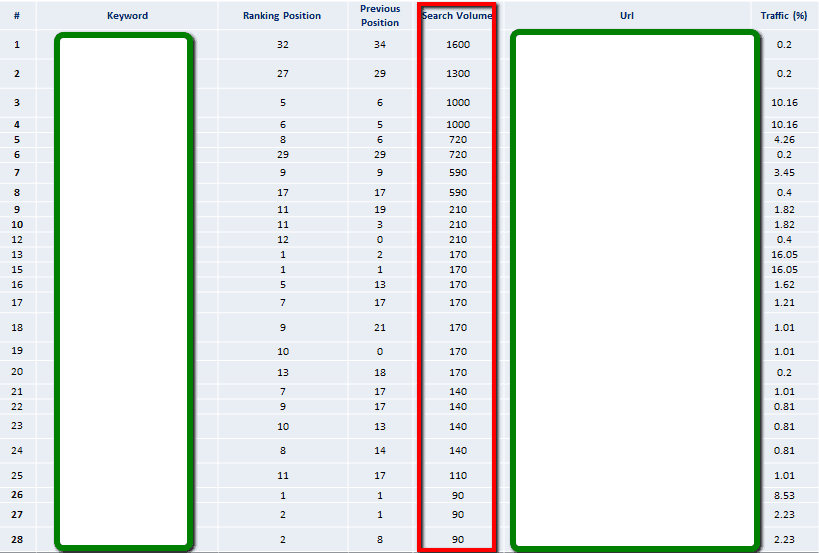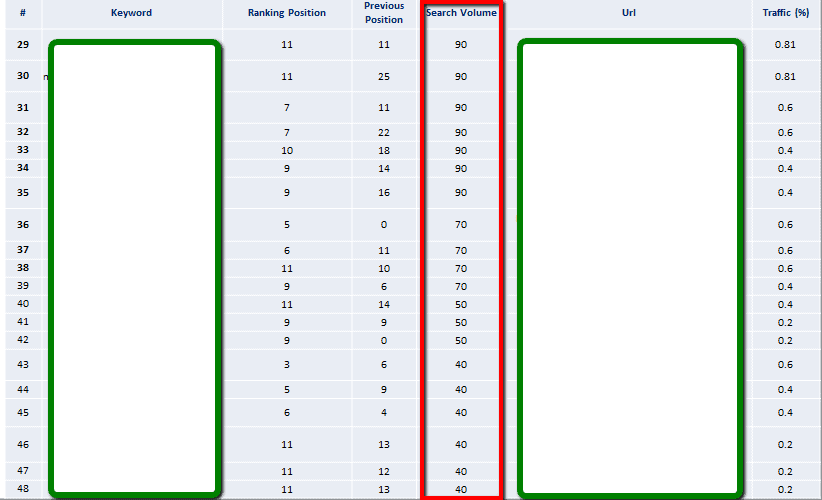 We are left with 38 keywords that UK site ranks for in Google UK, have brought some traffic AND are suitable for SEO targets.
---
These Keywords now, I will sort them by their Ranking Positions so you see if what has happened (seo wise) is what the company onwer paid for (or not)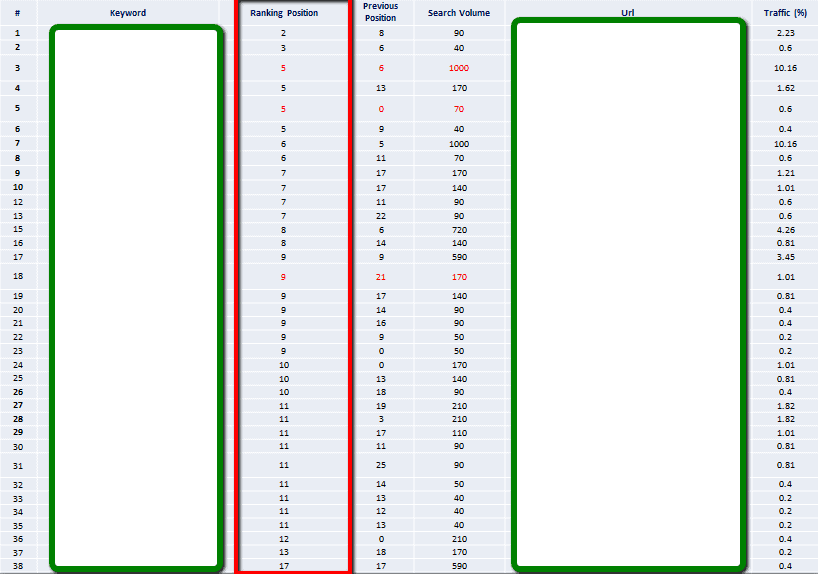 ---
STEP #3: Check Keyword Rankings Distribution with AHREFS SEO TOOL
At this point, I went into AHREFS Tool and checked the progress of the organically ranking keywords distribution, in Google.co.uk search engine.
Specifically, I checked what are the keywords for which the website ranks in the following ranges:
TOP #1-3 positions in 1st page of Google.co.uk
TOP #4-10 positions in 1st page of Google.co.uk
Ranking between #11-50 top ranking positions in Google.co.uk
---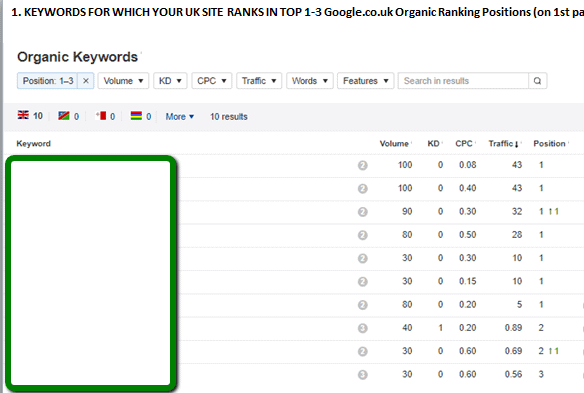 Conclusion
The website ranks on top Google.co.uk 1st page organic results for 10 keywords. Out of these 10 keywords, 6 are branded searches. Only the 4 last keywords are exact match product keywords which are reasonable seo targets.
---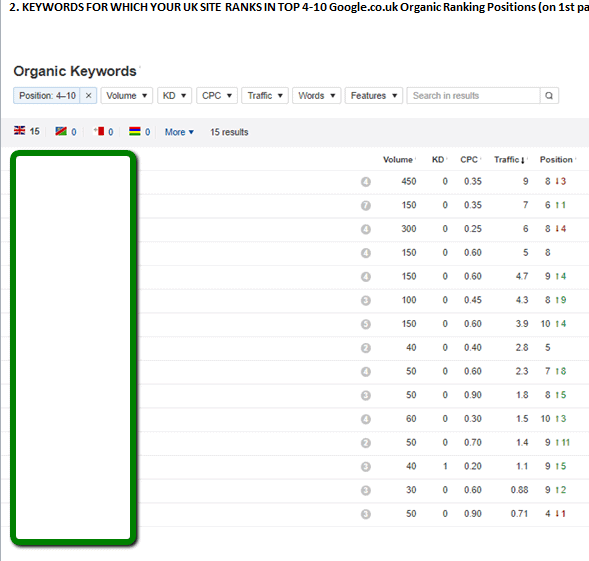 Conclusion
The website ranks on top Google.co.uk 1st page organic results btween ranking position #4 – #10, for 15 keywords. Out of these 15 keywords, 2 are branded searches.
---
127 Keywords were found ranking for the website between Google.co.uk 11th -50th organic positions.
I went into AHREFS and downloaded an excel file with all of these keywords and noted down their current rankings, their previous ranking and the Ranking history position in order to understand and pass the information on to the business owner if what he paid for was done within the period he paid for or not. See a preview of this report next.

This is a report which shows us what position each of these 127 keywords is ranking for NOW (Column "Position"), what was the Previous position (Column "Position History") and when did the change (if any) occur in time (Column "Position History Date".
---
Conclusion
This is the final report that I sent to the business owner that shows the exact SEO progress on the website that has been achieved within a specific timeframe…

This way the business owner can go through these final reports and understand what part of the SEO Work that Was Promised was Fulfilled within the specified collaboration timeframe and use it as proof to leave their current SEO Agency contractor.
---
For any questions feel free to reach out to me via Linkedin next. Thank you.
---